Careers in the Curriculum
Which Careers Go With Which Subjects?
When thinking about choosing options, students may wish to look at which careers are possible if certain subjects are studied. Below are links to www.successatschool.org to help explore some of the subjects which we offer. Click on the image for more information. For other subjects not shown below, please click on this link.
To further support students, the materials which were provided during National Careers Week also have a wealth of information supporting careers in Maths, English, Science, History and Geography. The materials are Key Stage specific and have a wealth of information through links and video clips.
---
Choosing Subjects and Apprenticeships
For older students who considering a next steps path through Apprenticeships, below are the links to materials on the Amazing Apprenticeships website, to help explore possible routes based on the subjects studied at GCSE and A Level, which were made available during National Apprenticeships Week:
---
The Subject Snapshot Bundle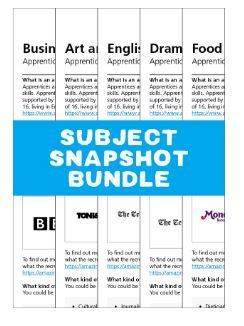 Although this publication is published as a guide for teachers, it clearly sets out, subject by subject, the companies who run Apprenticeship programmes, as well as the types of roles available, with links to vacancies and case studies; it is definitely worth a look.
Please click on the image below to download this publication from the Amazing Apprenticeships website.
Careers Information, Education, Advice & Guidance