Work Experience
At MPS, we consider work related learning is an essential part of the preparation for an adult life . It provides students with Key skills that employers are looking for so helps increase their chances of employment.
Other benefits are that work related learning will develop the students' understanding of the workings of businesses and an understanding of finance, labour markets, employer needs and provide students with the opportunity to develop their social and personal skills through enterprise, work related activities and opportunities for work experience.
Work-related learning should help our students
Recognise, develop and apply skills for enterprise and employability.
Develop their understanding of work.
Learn about the way businesses operate.
Develop an awareness of employment opportunities.
Relate their own abilities, attributes and achievements to career intentions.
Understand different work contexts and practices.
Engage with challenges and applications from the business world empowering students.
Raise students' aspirations.
Promote equality and opportunity challenging stereotypes.
Below are several articles which discuss work experience which you may find interesting. Please click on the link to go to the relevant articles:
In Years 10 and 12 our students are given the opportunity to complete work experience at the end of the year. We are hoping that this academic year this will go ahead as normal. Further detail will be provided later in the year.
As a result of COVID many companies are now offering Virtual Work Experience throughout the year to a range of students. Please see our Virtual Work Expereince pages for more details and opportunities.
---
Potential Work Experince Opportunites:
Experience opportunities and the Volunteer Police Cadet Scheme: Surrey Police - Work Experience
We have been made aware of some exciting upcoming opportunities with Surrey Police. Firstly, Surrey Police offer Work Experience. Unfortunately, due to Covid-19, it has been placed on hold at the moment, however, they hope to open this back up soon, potentially during the Autumn. In the meantime, if you are interested in Work Experience with Surrey Police, or you would like to find out more, please email us via workexperience@surrey.pnn.police.uk
Additionally, Surrey Police have a Volunteer Police Cadet Scheme, which is open to young people aged 13-17. They currently have vacancies for both Cadets and Adult Leaders (who help to run the sessions). If you are interested in the Volunteer Police Cadet Scheme, or you would like to find out more, please visit: https://vpc.police.uk/
If you have any questions, or would like further information or support, please email us at PositiveAction@surrey.pnn.police.uk
---
NHS Cadets - a new programme for young people aged 14 to 18 years
NHS Cadets is a new, free initiative, created by St John Ambulance in partnership with the NHS, which offers young people health awareness sessions, courses to develop their leadership and communication skills, and insight or experience in volunteering within the NHS.
This programme is not being organised by MPS, but we are bringing it to your attention as it appears to be a wonderful opportunity for young people. In addition to the practical skills that students will learn, the programme would be a meaningful addition to students' UCAS application, or for completing the Skills sections required for DofE, for example.
Please click the link for further details: NHS Cadets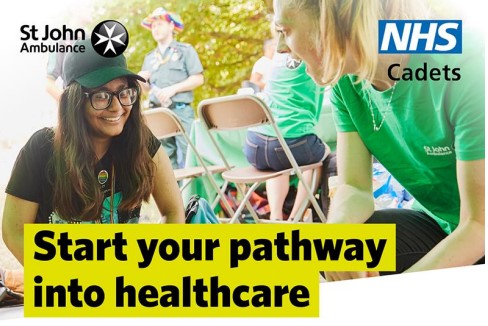 Careers Information, Education, Advice & Guidance