Work Experience
Merstham Park School recognises the significant benefits of work experience for students. Even though the school does not directly organise work experience placements, we encourage students to proactively seek and arrange their own opportunities during school holidays for the following reasons:
Career Exploration: Experience of the workplace allows students to gain firsthand knowledge of various careers and industries. It provides an opportunity to explore different job roles, understand the requirements and expectations of specific professions, and make informed decisions about their future career paths.

Skill Development: Experience of the workplace enables students to develop a wide range of skills that are essential in the professional world. These include communication skills, teamwork, problem-solving, time management, adaptability, and professionalism. By actively engaging in work environments, students can enhance their transferable skills that will benefit them in any future job.

Networking Opportunities: During this type of experience, students can connect with professionals in their chosen field or industry. Building networks and establishing relationships with experienced individuals can be valuable for future job prospects, mentorship, and gaining insights into specific career paths.

Real-World Application of Knowledge: Work experience provides students with the opportunity to apply the knowledge and skills they have acquired in a real-world setting. It helps bridge the gap between theory and practice and allows students to see how their education relates to the workplace.

Enhanced CV and College Applications: Having work experience on a CV or college application demonstrates initiative, commitment, and a proactive approach to learning. It showcases a student's dedication to personal and professional development, making them stand out among their peers.

Self-Discovery and Personal Growth: Work experience can be a transformative experience for students, allowing them to discover their strengths, interests, and areas of improvement. It helps them develop confidence, independence, and a sense of responsibility.
Merstham Park School offers various resources and opportunities to support students in their career exploration and skill development. These include guest speakers, materials about the world of work, extracurricular activities, and skills days within the school. Students are encouraged to make the most of these opportunities and experiences to further enhance their understanding of the working world and develop the skills necessary for their future success.
At MPS, we consider work related learning is an essential part of the preparation for an adult life . It provides students with Key skills that employers are looking for so helps increase their chances of employment.
Other benefits are that work related learning will develop the students' understanding of the workings of businesses and an understanding of finance, labour markets, employer needs and provide students with the opportunity to develop their social and personal skills through enterprise, work related activities and opportunities for work experience.
Work-related learning should help our students
Recognise, develop and apply skills for enterprise and employability.
Develop their understanding of work.
Learn about the way businesses operate.
Develop an awareness of employment opportunities.
Relate their own abilities, attributes and achievements to career intentions.
Understand different work contexts and practices.
Engage with challenges and applications from the business world empowering students.
Raise students' aspirations.
Promote equality and opportunity challenging stereotypes.
Below are several articles which discuss work experience which you may find interesting. Please click on the link to go to the relevant articles:
---
Potential Work Experience Opportunities:
Experience opportunities and the Volunteer Police Cadet Scheme: Surrey Police - Work Experience
We have been made aware of some exciting upcoming opportunities with Surrey Police. Firstly, Surrey Police offer Work Experience. If you are interested in Work Experience with Surrey Police, or you would like to find out more, please email us via workexperience@surrey.pnn.police.uk
Additionally, Surrey Police have a Volunteer Police Cadet Scheme, which is open to young people aged 13-17. They currently have vacancies for both Cadets and Adult Leaders (who help to run the sessions). If you are interested in the Volunteer Police Cadet Scheme, or you would like to find out more, please visit: https://vpc.police.uk/
If you have any questions, or would like further information or support, please email us at PositiveAction@surrey.pnn.police.uk
---
NHS Cadets - a new programme for young people aged 14 to 18 years
NHS Cadets is a new, free initiative, created by St John Ambulance in partnership with the NHS, which offers young people health awareness sessions, courses to develop their leadership and communication skills, and insight or experience in volunteering within the NHS.
This programme is not being organised by MPS, but we are bringing it to your attention as it appears to be a wonderful opportunity for young people. In addition to the practical skills that students will learn, the programme would be a meaningful addition to students' UCAS application, or for completing the Skills sections required for DofE, for example.
Please click the link for further details: NHS Cadets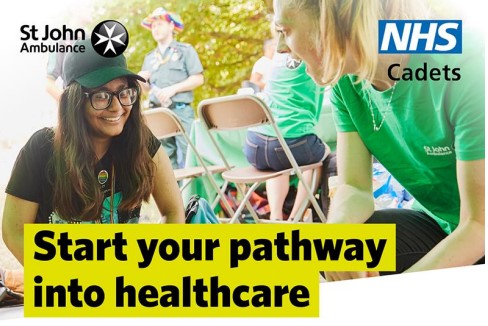 Careers Information, Education, Advice & Guidance