Careers Fairs for Next Steps
Careers, Education and Gap Convention
Thursday 18 November from 6.30pm to 8.30pm at City of London Freemen's School in Ashtead for Years 10, 11 and 12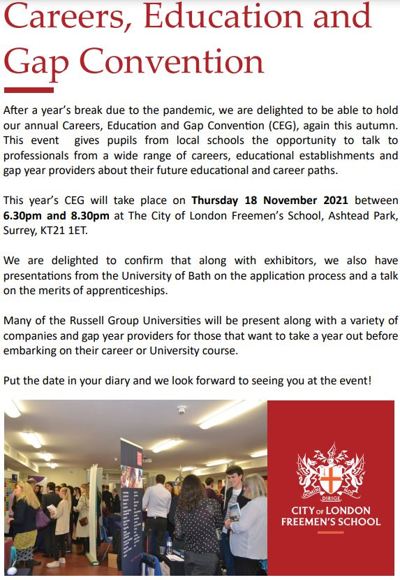 A Careers, Education and Gap Convention will be taking place again this year at City of London Freemen's School in Ashtead on Thursday 18 November from 6.30pm to 8.30pm and students (from all schools) in Years 10, 11 and 12 and their Parents and Carers are welcome to go along.
This promises to be a very informative and interesting event, with the opportunity to visit the stands of numerous universities, companies and gap year providers. There is no need to pre-register - just turn up!
The National Apprenticeship Show South
The National Apprenticeship Show South highlights Apprenticeship opportunities and offers information from Southern England's top employers and training providers
You can register for the event by registering on: https://nassouth.vfairs.com/en/#ExhibitorsLogo.
Registering will give you the opportunity to chat with exhibitors via text chat, watch online video content, as well as download useful resources. The event 'goes live' on 18th November 2021 between 11.00am and 6.00pm.
Many of the workshops on the schedule take place during day, however a number of these are meant to be pre-recorded and run alongside a live Q&A session. They can still be accessed outside of the school day.
The event is on-demand and available to access for 30 days after the event has taken place. This on-demand period will allow visitors to download information and view content.
This is a new event but seems worthwhile publicising as it is online and may offer some insights into apprenticeships that lead to students finding a pathway of interest. It goes live tomorrow so registration should take place today - it just takes a few minutes. Students over 14 years can register themselves.
Careers Information, Education, Advice & Guidance